This video takes you through some new features in WebSpy Vantage to help distribute web activity reports to managers throughout your organization.
These new features include:
Manually Assigned Group Managers
Redesigned Separation and Permission workflow
Manager Reports
Manually Assigned Group Managers
WebSpy Vantage has always had the ability to report on Departments, Cities, or any other group that you can create when importing your organization from Active Directory (or any other LDAP directory server).
WebSpy Vantage has also been able to automatically assign access permissions to those reports to any manager within the groups.
The way WebSpy Vantage determines who is manager within the group is by looking at the 'manager' attribute in Active Directory to find people with subordinates.
This works fine when those managers are responsible for the entire department (group). But what if you have lower level managers that manage their own teams within a group? You don't want to automatically give access to the entire department's report to these lower level managers, just because they have a few people that report to them.
To fix this problem, we have introduced the ability to select managers for each group manually. You can now double-click each group on the Organization tab, and select a manager (or managers) manually.
To avoid overwriting these manually assigned managers during the next LDAP import, make sure you select the Merge option in the Import organization from LDAP wizard.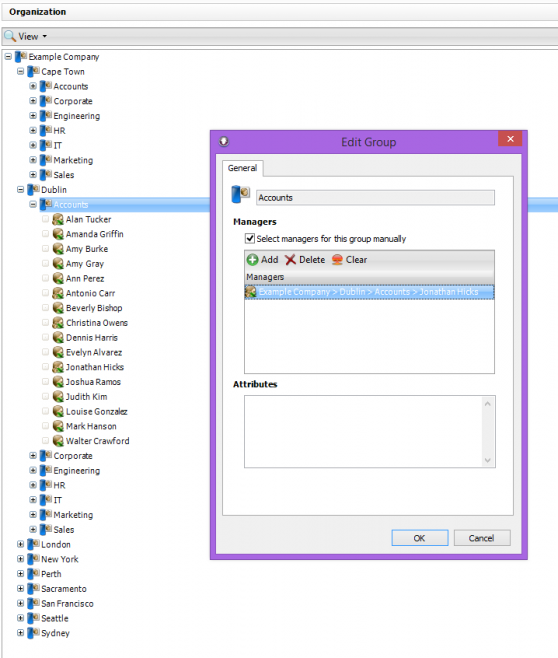 Once you have manually selected managers for each group (which may take a little while, but unfortunately there's no real way to automatically determine these from Active Directory), you can publish reports for each group, and use the 'Allow managers of each Group access' permission.
A new report will be published to the Web Module for each group (such as a Department), with only the manually assigned manager(s) permitted to access them.
Redesigned Separation and Permissions Options
Previously the Separation and Permissions pages were two separate pages in the Publish to Web Module wizards. We have combined these two pages to make it more obvious as to how the reports will be separated and who will have permission to access them.
The new Split and Permit page presents more information, but we hope that you find it easier to use and understand.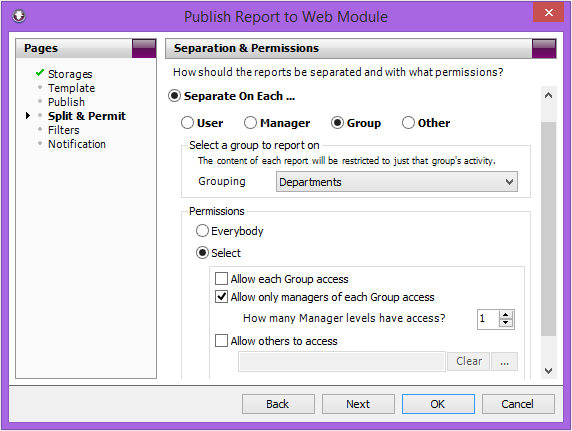 A fundamental part of this change is removing the previous 'Attributed user or group' option. Now the permissions say 'Allow each group access' or 'Allow each user access' etc, depending on the separation option you have selected.
The option to separate reports based on a 'Custom Expression' has also be replaced with a Custom option. This enables you to select an arbitrary field and alias to separate reports on. You can also define custom expressions if needed.
Note: When separating reports on a custom field and/or alias, you need to ensure that the results of that field or alias are included as 'Attributes' for either a user or a group in the Organization screen. For example, if separating reports on an alias that returns 'Building A', Building B' etc, go to the Organization tab, double-click the appropriate users or groups and add the appropriate buildings in the 'Attributes' section.
Manager Reports
So now you can easily distribute group reports to managers, but what about individual team leaders, and any other lower level manager in the organization? Wouldn't it be great if you could create a report for each manager that is automatically filtered by their subordinates?
Well now you can using the new Separate on each Manager option on the new Split and Permit page.
First, view your Organization's Manager/Subordinate structure by going to the Organization tab and selecting View | By Hierarchy.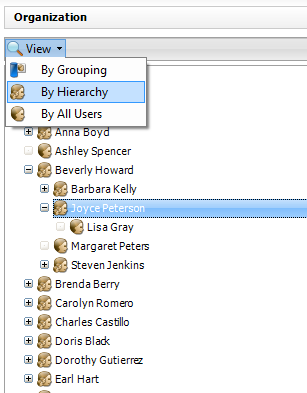 Anyone with subordinates is a 'Manager' and can now receive a report filtered by the individuals underneath them (their subordinates).
This is done using the new Manager option on the Split & Permit page when Publishing Reports and Storages to the Web Module: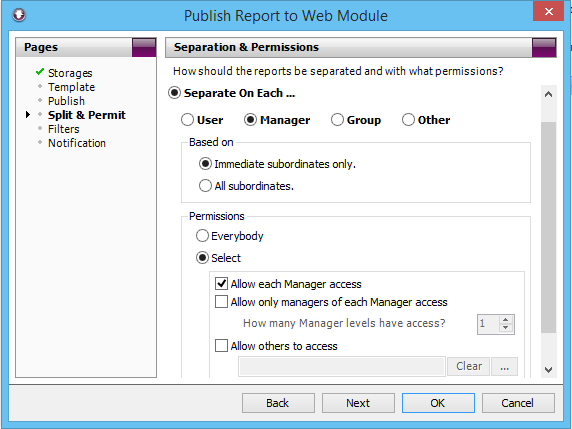 There is an option to choose Immediate Subordinates only, which suits most purposes.
If you choose All Subordinates just be aware that the reports will undoubtably take longer to generate. For example, the CEO of the company will receive a report that contains all users in the company (assuming everyone ultimately reports to them). VPs will also receive reports for their entire division of the company and so on, rather than just their immediate subordinates.
Once the reports have generated, managers will be able to see their reports when they log into the Web Module: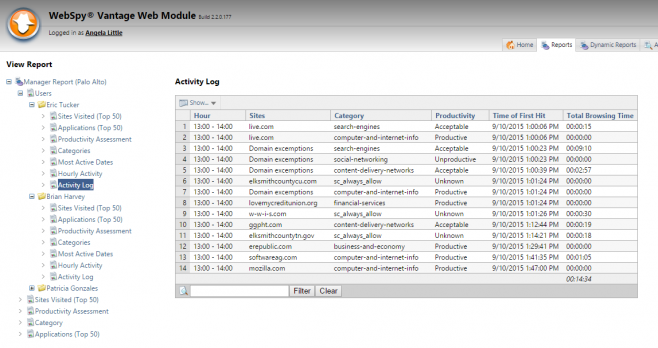 Summary
Being able to manually assign managers to each group, an easier to understand workflow, and the addition of manager reporting, makes it much easier to get the right report to the right person.
If you have any questions or issues, please don't hesitate to contact us.
See also: