Clearswift (network security vendor and WebSpy technology partner) recently released their first report, in a series of three, on the use of social media and web 2.0 in the workplace.
From not wanting to touch social media with a ten foot pole, employers are these days increasingly aware of the benefits of social media and web 2.0 in the workplace. Clearswift used an independent market research firm and interviewed approximately 250 online office workers and 150 managers across the UK, US, Australia and Germany.
Social Media and Web 2.0 Benefits According to Managers:
More than half (52%) of managers think web collaboration is critical for the future success of the company.
91% believe it can help increase brand awareness.
89% believe it can help in generating new business.
88% believe it can help improving employee productivity.
47% of managers believe staff are 'happier and more motivated' as a result of using these tools in the workplace.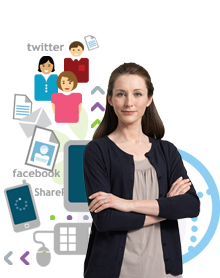 Web 2.0 and security: New approach needed?
It is naturally refreshing to see that organizations are realizing the benefits of web collaboration and social media tools. Filters and blocks are gradually removed, and the great organism that is the Internet is allowed to breath more freely. However, there's always bad seeds, internally or externally, that will take advantage of this openness and use it to commit crimes, spread viruses, leak information and ultimately make it harder for organizations to embrace the splendor of web 2.0 and social media in it's entirety.
According to Clearswift's report:
Security is the biggest Web 2.0 concern, with 61% of companies having voiced concerns about security as a
result of social media.
More than half (51%) of managers think employees are oblivious to security concerns when it comes to IT.
47% of companies have had at least one security incident as a result of internet application usage
Only 64% have specific tools in place to secure Web 2.0 exchanges
Current popular approaches to Web 2.0 security issues typically involve "big brother" style monitoring and locking down social networking sites. Such approaches may serve to erode employment relationships and diminish business value to be gained from web collaboration. It is a positive sign, therefore, that 64% of companies recognize that a new approach to security is needed in this era of web collaboration.
A New Approach to Security
Clearswift SECURE Web Gateway and Clearswift SECURE Email Gateway are trusted by organizations globally to deliver internet security for business. They maintain productivity by enabling information to flow safely into and out of the workplace. Adding WebSpy reporting to the equation enables managers to provide employees with the Internet resources they need, while resting assured the resources are used as intended.
5 Tips for Effective Reporting while taking Workforce into Consideration
Allow employees to view their own Internet usage
More often than not, employees tend to underestimate the time they spend browsing non-work related sites. Allowing employees to view, for example, their productive and non-productive activity can help foster and drive responsible Internet usage behavior.
Help employees sticking to the rules
If you have set a limit of, for example, no more than 10 hours of recreational surfing per month, then ensure you alert employees when they are approaching that limit.
Distribute reports – distribute responsibility
Frequently IT managers and administrators are given the ultimate responsibility of managing, enforcing and communicating acceptable Internet usage for an entire organization. Take some of the pressure off the IT department and distribute organizational Internet activity reports to responsible managers or department heads. This will enable them to see how Internet usage affects the security and performance of their own department and distributes the responsibility of enforcing acceptable usage with the managers themselves.
Protect employee privacy
If distributing Internet usage reports across your organization it is important to protect employees' personal data. Make sure you use reporting software designed to protect privacy rights by only allowing authorized users to see the employee's identity. For instance, Network Administrators may need to investigate all traffic going to a particular site but should not need to know the user names – in this case
user names should be anonymous for them but available for HR.
Automation
Use a reporting solution that easily lets you customize and automate these guidelines for you

DOWNLOAD REPORT & RECOMMENDATIONS
See also: