To set things straight from the get-go, this is not a plug about our partner program, margin structure or reseller support. All the ingredients necessary to bake a successful partner cake are present (and being improved…get ready for some exciting partner announcement in the coming weeks). No, this is simply a very factual overview of the Network and Security Industry, where majority of security vendors fall short and where WebSpy continues to save our resellers' day.
WebSpy's Industry Fit
WebSpy is a global leader in reporting and analysis on Internet activity when used in partnership with security vendors such as Microsoft ISA Server, Microsoft Forefront TMG, Cisco IronPort, Blue Coat, Sophos, Astaro, Barracuda, Squid Proxy, and many more.
Below image neatly summarizes how WebSpy report on log files from vendor devices in the Unified Threat Management (UTM) and Secure Web Gateway (SWG) sectors, and specifically focus on reporting and analysis on Internet activity aspects within the SIEM sector.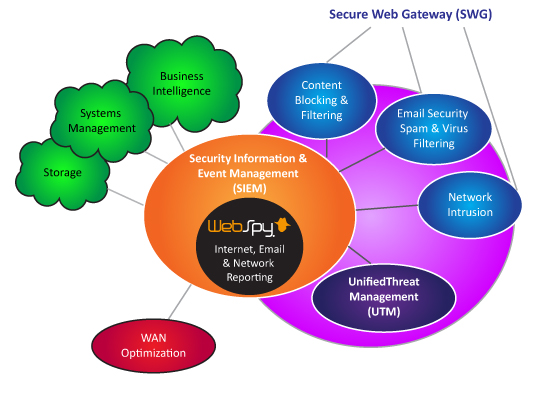 THE REASONS
1. WebSpy Adds Value to Existing Product Portfolio
There's a multitude of reputable, solid and reliable security vendors that frequently form a part of our resellers' product portfolio. Their network and security devices do a great job providing network structure and actively protecting against security issues.
However, analysis and reporting is not their forte, not their core, and more often than not reporting is only a feature within their complete network and security solution.
Gartner's latest Magic Quadrants on SWG and UTM vendors (or "SMB Multifunctional Firewalls" as labelled by Gartner) clearly highlights the security vendor's weakness in reporting.
Straight from the horse's mouth, here's some vendor reporting issues as highlighted by Gartner:
"Lacking enterprise-class administration and reporting capabilities."
"Advanced ad-hoc reporting features are lacking and custom reports are limited to filter settings on existing reports."
"Reports are very basic, and there are only a limited number of pre-developed reports."
"Per-user reports and forensic investigations are weak."
"On-box reporting is very basic and requires Windows and SQL database licenses for the reporting server."
"The number of canned reports is low and some reports do not have obvious features, such as pie graph options. Some customers complained about the scalability of the reporting interface."
"Users describe the vendor's reporting and alerting as difficult to use."
"Although management is strong, users cite quality of reporting as a deficiency."
With this information at hand it comes as no surprise that resellers want WebSpy's reporting solutions to complement and add value to existing Internet security devices and provide their clients with valuable, advanced, customized and scalable reports on the exact use of web servers, web proxy, servers, email server, firewalls, switches, routers, and spam and virus application.
2. WebSpy Helps Generate and Facilitate SWG and UTM sales opportunities
You'll be surprised by the amount of clients who base the decision of which Internet security device to purchase on reporting abilities.
WebSpy has a proven track record of assisting both Internet security vendors, such as IronPort, Microsoft ISA Server, Sophos, and their resellers in securing sales of their Internet security appliances. On numerous occasions our resellers have been able to secure deals, which could have been lost to a competing vendor/reseller, simply because they were able to throw advanced reporting into the mix.
3. WebSpy Substantially Increase Sales Revenue through Add-On Sales
Our resellers have found that recommending WebSpy reporting with every Internet security and network installation gives them the ability substantially increase add-on sales revenue with limited efforts involved.
The fact we offer competitive upgrade rebates if a reseller's client have already invested time and money in a competing third-party reporting solution, or on-appliance reporting, naturally makes the transition to WebSpy even smoother.
Not convinced? Have a look at these:
See also: