According to recent report, Google has a record slice, 6.4%, of the world's Internet traffic. An accurate figure? Well, we wanted to put this claim to the test and therefore started off by investigating the share of WebSpy's traffic to Google sites. We also encourage our Vantage and Analyzer users to do the same thing and share results in below comment section – it will only take a minute.
The Claim
According to network security firm, Arbor Networks, traffic to Google sites broke a new record this month, and now accounts for 6.4% of all Internet traffic around the world.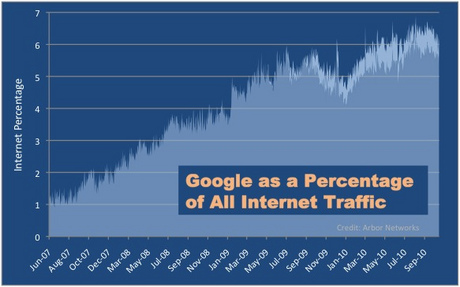 The 6.4% includes all sites owned by Google, including Google's search engine, YouTube, GMail, Google Maps, AdWords and Google's office suite of products like Google Docs and Spreadsheets. The data was obtained through more than 110 ISPs in 17 countries.
Our Test
Using Vantage I ran an analysis on web proxy traffic for July – September 2010. I am aware the Google data is for September 2010 but wanted to test a larger set of data since I'm reporting on traffic from a smaller amount of users, compared to 110 ISPs in 17 countries.
How much of your traffic is going to Google sites?
To find out simply create an Alias and add all Google related sites.
Click on the 'Alias' tab in Vantage.
Double-click the 'Web sites' alias on the left-hand side and make sure 'Use wildcard matching' is selected. Click 'OK'.
Click 'Add Group' in the Groups task pad.
Name the group something intuitive…I named mine 'GOOGLE SITES'.
Click 'Add' and type '*google*, youtube.com, ytimg.com, gmail.com and adwords.com'. The *google* will add all domains with the string google in it. ytimg.com is YouTube's DNS and also needs to be added (see previous blog post for more information).

Click 'OK'
Click on 'Summaries' tab
Click 'Site Domain' to get a listing of sites
Enable the 'Web site' Alias on the left hand side.

Click the top of the column called 'Size' to sort domains in descending order
Click the pie chart icon on your right-hand side

Have a look at the pie chart to identify what percentage of your traffic is going to Google related sites.
It is apparent that WebSpy traffic to Google sites makes up more than twice than the reported average. I'm also fortunate enough to have access to one of our larger client's (approximately 25,000 users) most visited websites. The below pie chart is from one of their reports on site domain traffic for a random period in October.
How much of your traffic goes to Google websites?
We really encourage you to add a Google sites alias and have a look at your Google traffic. Please comment below on the percentage of your traffic going to Google sites, approximately how many users you are reporting on and the time period (about a month or more) you are reporting on.
Many thanks.
See also: