Tis should be the season to be jolly but it looks like employers have reasons to watch out, and maybe even cry, all because Santa Claus is coming to town.
Gallup has reported that Christmas spending intentions are currently down, compared to last year. Americans are planning to spend an average of $740 on gifts this year; somewhat less than the $801 recorded the same time last year.
Despite this monetary shopping decrease there are no sign that there will be a decrease in the amount of time spent shopping online. According to ISACA, a non-profit association of 86,000 IT professionals, employees plan to spend nearly two full working days (14.4 hours) on average shopping online from a work computer this holiday season.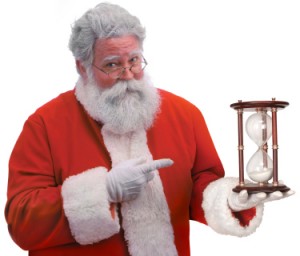 Ho, Ho, How will this affect your workplace?
ISACA reports, "The potential danger of shopping online is that it can open the door to viruses, spam and phishing attacks that invade the workplace and cost enterprises thousands per employee in lost productivity and potentially millions in destruction or compromise of corporate data."
Lost Productivity
This almost goes without saying – 14.4 hours spend online shopping means 14.4 hours being unproductive. The survey estimates that employers lost $580 million in lost productivity on Cyber Monday (Nov. 30) in 2008. This year, Cyber Monday is anticipated to be the number one online shopping day. The busiest hours are from 2pm to 4pm, while people are supposed to be working.
Increased Vulnerability
ISACA reports that "employees who shop online using a work computer are also likely to engage in other high-risk behaviors. Survey participants also bank online (51%), click on e-mail links redirecting them to shopping sites (40%) and click on links from social network sites (15%). Yet nearly one in five says they are not concerned that their online shopping habits may affect the safety of their organization's IT infrastructure. "
Recommendations:
Monitor – Don't Block

Don't start blocking online shopping sites in an attempt to circumvent the problem. Depriving the internet needs of a professional workforce can cause resentment and increase costly turnovers. Blocking Internet access also has potential to reduce productivity by complicating or delaying accomplishment of tasks. In addition, blocking sites may also encourage employees to seek out less secure ways to access block sites.

Monitor Employee Internet Usage Openly and Respectfully

It is not 1984, overly intrusive practices can easily create the negative perception that Big Brother is watching and make employees feel frustrated and uncomfortable. The effectiveness of Internet monitoring directly relates to employees' awareness of the content of the policy, their perception of its fairness, and corresponding breach consequences. Please have a look at previous blog "Internet Monitoring Best Practices – 10 Valuable Tips" for a complete list of best practices.

Educate, Update, Iterate

Educate employees about the risks of online shopping in relation to viruses, malware, spam and phishing attacks. The online threat is constantly changing so ensure your online safety training and education is up to date. Iterate to ensure employees always have internet security at the top of their minds.

If you are using WebSpy's software you can easily see who may be in need of further online safety training by viewing who is clicking on phishing links and who is trying to access unsafe websites blocked by your organization. Read recent user case: "How to Educate your Workforce and Strengthen Security with Internet Monitoring".

Join the Spirit of Christmas

It is Christmas after all. Being more lenient with your Acceptable Internet Usage Policies during the holiday season, as long as work related expectations are met, can significantly assist your employees during this busy time of year. This day and age many employees are working longer hours and have less time for personal tasks, such as holiday shopping. Increasing their online shopping allowance can save employees' time and let them achieve a better work-life balance.
Related Links:
See also: